Blocked Drains Toilet Sink Badgers Dene RM20
Blocked drains Badgers Dene for a fixed price 0791 7852384 Chris.Over 30 years drain clearance and cleaning experience of blocked drains in Badgers Dene RM20 and clearing blocked sinks / toilets / sewers.
We actually enjoy unblocking all types of blockages and also carry out drain inspections with our drain camera.
What cause's toilets to get blocked ? with blocked toilets there are various causes the most common causes that I come across on a regular basis are.
Blocked Toilets And Drains
Baby wipes
Clip On Air freshener
Excessive Toilet Tissue
Low water level in toilet cistern resulting in a poor flush
Faulty flush syphon
With baby wipes some say they can be flushed when they really should not be as they are quite strong and do not break up easily.
Air fresheners clip on the side of toilet become dislodged and flushed and get stuck just out of reach,upon which they will normally require a drainage engineer to remove.
Excessive toilet paper is normally due to children just using to much paper but saying that some adults do on occasions.
Low water level in toilet cisterns will result in a less powerful flush due to gravity as well as less water is present to carry tissue paper the full duration of pipe work out to discharge point.
Faulty flush syphon as with low water in cistern not letting required amount of water to allowing materials of waste to travel full distance in drainage system.
All of the above can also cause blocked drains in the underground section of your drainage system especially the wet wipes stuck in the u bend of the interceptor trap before it reaches the main sewer drain.
We are a two man operation with over 59 years experience between us, we have the knowledge and experience which is assisted by the right tools to unblock any blockage you may have,  from a blocked toilet to a blocked sewer drain.
We will simply give you a fixed prices over the phone so you don't have to worry about any over charging.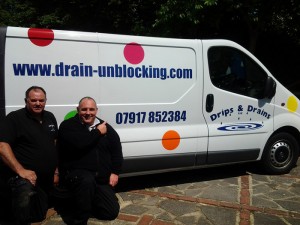 There are lots of drainage companys that charge per hour/half hour which is fine but there are a lot that try to get as much money as they can out of customers by hanging/stretching the job out, some advertise set prices like us but have clauses on their website we don't have any clauses.
Why Use And Call Us ?
I would like to think because we offer the experience and knowledge of over 28 years in both plumbing & drainage,which is assisted by a fixed price given over the phone.
As well as our personality's and are passion to provide our customers with a good service, and if there is any advise regarding repairs to your drainage system or to prevent blocked drains from regular occurring in your pipes or drain then will will advise you of what we believe is the best choice for your system.
We clear all types of blockages including the below and more.
Blocked Toilets
Washing Machine Pipes
Kitchen Sink Waste Pipes
Baths
Showers
Rainwater Pipes
Rain Water Gully Traps
Gutter Down Pipes
basin
Drains
Do You Have Smelly Drain / Drainage Smells
When it comes to drain smells inside your property from bathrooms / kitchen / utility room / bedroom or conservatory this is when you need a very experienced drainage engineer that has been investigating such smells for a lot of years (Like Us|),as there is a better chance of them finding the problem and advising you of the best way to remedy the problem compared to a less experienced engineer or even a plumber that just dabbles in drains and does not have all the right tools or knowledge for  the job.
When it comes to investigation work this is chargeable even if the smell is not 100 % clear but saying that I normally find the cause and remedy it right there and then for the original price quoted, and in the cases were it is not always clear and I have told customers a couple of recommendations to change on their system and also asked them to check certain things over the coming days / weeks which has worked.
Drain Clearance In Badgers Dene RM20
Unblocking drains is what we do everyday and we get great job satisfaction when we have cleared our customers drain and they are thanking  us for a great service,and you go away knowing if they have problems in the future they would use you again and recommend you to friends.
Chris Peters plumbing & drainage services unblocking blocked drains,toilets and kitchen sinks as a small drainage company we offer a fast reliable service at fixed prices were possible for all  drainage services, and we can provide you with a emergency service for drain clearance 24 hour 24/ 7  unblocking,many drains over the years we have cleared lots of blockages at night especially were there is a blocked toilet and it is they only one in the property.
When it comes to unblocking blocked drains at night customers do worry that we will not be able to unblock their drainage system or sewer due to darkness,we are use too this and is not a problem,so please do call even when its dark.
Thank you for reading our details..
Chris 0791 7852384.
Blocked Drains Badgers Dene RM20